Welcome To Prince of Peace Catholic Church & School
An Extraordinary Parish for Ordinary People
Sundays
Anticipated Mass on Saturday at 5p (English)
Sunday at 8a (Low Mass, English), 10a (Sung Mass, English), and 12n (Latin) 
Weekdays
7a Daily Mass (English) Monday, Tuesday, Thursday, Friday
8.30a Daily Mass (English) Wednesday
12n (Latin) Daily Mass
8a Daily Mass (Latin) Saturday
Confession
5p Wednesdays & 3.30-4.40p Saturdays 
The mission of Prince of Peace is to share the fullness of the Gospel to all we encounter in our lives by equipping disciples to create and strengthen a personal relationship with Christ. By the grace of God, we are called to strive for personal holiness, participate fully in the vibrant life of the Church's Tradition and transform the world.
Parishioner Life at Prince of Peace
Blogs and Recent Information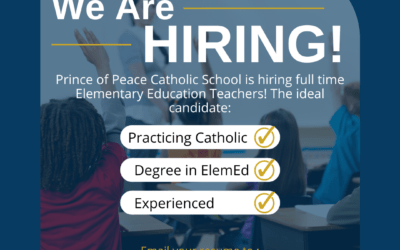 Prince of Peace Catholic School in Taylors, SC, is accepting applications for full time elementary education teachers for the 2023 – 2024 school year. Established in 2003, Prince of Peace Catholic...